About
Having worked for both major corporations and type/print shops, the training ground was set, and a career captivated me. Decades with top managers and a host of team players yielded the best formal training and guidance a person could ever receive.

Permanent | Temp | Freelancer | Independent Contractor
Employment titles and categories can really give us a choice of career progression for our lives. I touched on nearly every venue of industry, and became a marketable player in the tech world, as well as within the cultural community. Coming through the ranks of permanent, temp to freelance "gal Friday" in business, I was also dubbed the "flyer girl" by performing artists in the community. I was kept ever busy. The city never slept, and neither did I.

Digital Age
Aside from having a flair for the technical stuff, another big motivator was my desire to give new life to the old worn, and yellowed newspa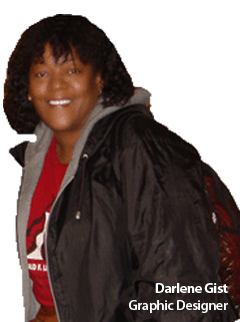 per clippings and frayed photos of legendary performers that had touched my life so deeply and beautifully. When I saw their old and faded relics from the past, I knew it was my duty to restore them. The restoration of these historical treasures were designed into pamphlets for introduction to a new era. I felt that newer generations, needed to know the value of these great stars of the stage, nightclubs, film, and their contributions to history. I guess you could say, this was my inspired calling into the graphics field that seemed to connect with me on a very deep level.
Graphics continued to tap my shoulder as the industry flourished with new technologies. This new digital age escorted me into a broader phase which served as a continuum with newer and fresher options. After winning MacDraw Pro in a raffle during a MacUsers Group meeting, I was enthusiastically in the race!

Many salutes to Steve Jobs and the gang, as Apple's Macintosh Computer took the art world by storm....as well as a dear friend named Eddie, who pointed me in the direction of this new phenomenon on the rise. As a result, (and the fact that graphic design shares my reverse initials), DGGD was established in 1993. Since those early MacDraw days, I've since developed a wide variety of skills with Adobe Creative Suite, and Microsoft Office.

Always eager to further my knowledge, and apply years of experience with advanced technology, I remain dedicated and enthusiastic in this experience, so that I may continue to be of service to others.